Who knows how many people have photographed Jay Laber's sculptures?
The late artist's life-size warriors on horseback, sculpted from rusted metal car parts carefully repurposed and welded into new forms, stand guard in pairs at the four entrances to the Blackfeet Indian Reservation, no doubt catching the eye of thousands of tourists on their way to Glacier National Park.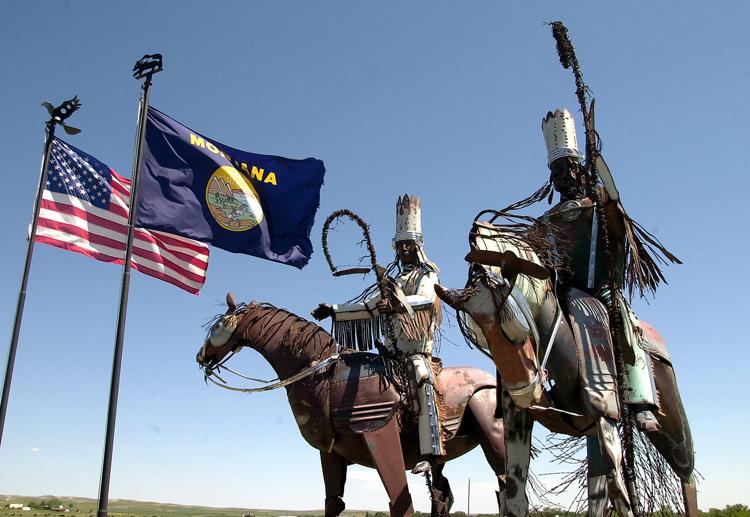 Another sculpture of a horseback rider, appropriately titled "Charging Forward," is frozen in motion outside the University of Montana's Washington-Grizzly Stadium, which draws crowds larger than the population of many towns around the state.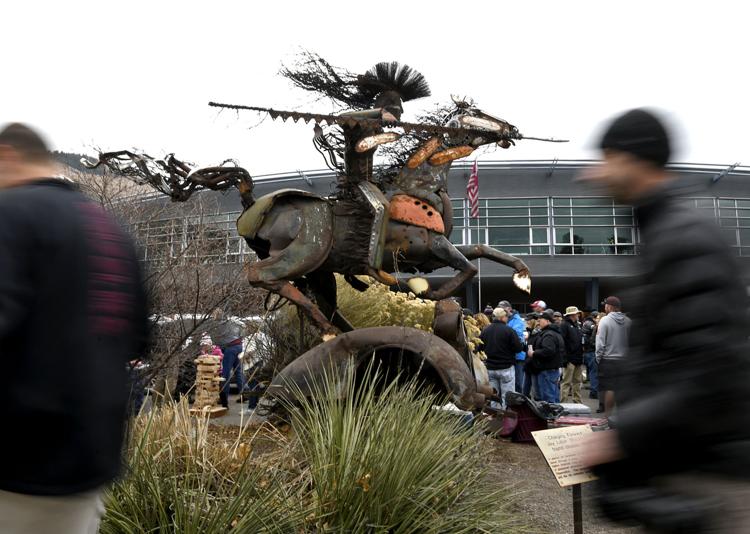 That's why Laber's mentor and friend, the artist Corwin "Corky" Clairmont, wonders how many admirers have shot photos and perhaps didn't know anything about the artist who made them.
Laber, who lived outside of St. Ignatius on the Flathead Indian Reservation, died on Oct. 24 of cancer at age 58, leaving behind sentries and other evocative sculptures in Montana towns and private collections, pieces that he artfully constructed from scrap after a midlife discovery of his talents.
"For a lack of a better word, he was a genius," said Clairmont, the founding director of Salish Kootenai College's art program, who's exhibited his work around the world.
Laber was born in Browning in 1961. Three years later, after the devastating 1964 flood, his family lost everything and moved to New Hampshire, where his father was from. After a tough childhood, he spent time working construction in Alaska, Florida and Maine. He returned to Montana about 20 years ago, enrolled at SKC to study forestry, and began taking art courses on the side.
The classes were open-ended, Clairmont said, and he asked Laber to make something large. Perhaps inspired by a metal sculpture on campus, "Eagle Spirit," by Dwight Billedeaux, Laber began making art out of old cars.
"It probably had some inspiration for him," Clairmont said of "Eagle Spirit,"https://mtstandard.com/"but I also encouraged him to use what's around him, or what's available to him as well. We have no shortage of junk cars and things like this."  
In a 2003 article, artist Alfred McLeod said he worked with Laber early on to learn welding. Laber had also worked as a carpenter, which no doubt helped him make a great leap into life-size sculptures.
Clairmont bought two of these early pieces — a warrior on horseback and a buffalo calf — that he keeps in his yard.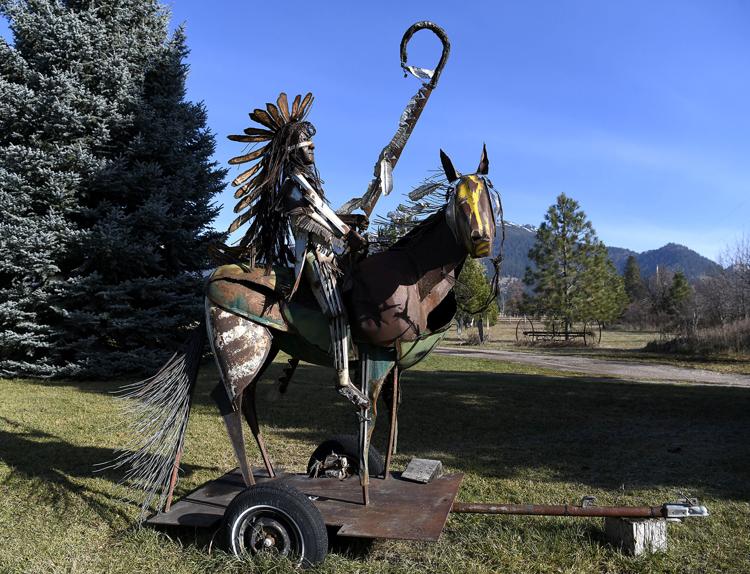 They're imposing creations for a student — intricate and anatomically correct representations pieced together from heavy and sometimes jagged parts — and Clairmont attributes it to Laber's attitude and work ethic. An idea is just an idea; figuring out how to achieve it is another.
"He liked the challenge of it. Nothing was too much. He wasn't afraid of it, and that's where a lot of artists fall short, you know, they're intimidated. But this guy is not intimidated," Clairmont said.
These two sculptures, which date to 1997 or 1998, display features of Laber's style that he maintained through the end of his life. 
He respected the integrity of the parts, Clairmont said. The horse's neck is a curving piece of green with a brown edge that flows like a single brushstroke in an abstract painting. "He tries not to alter the pieces to the point where it loses the integrity" of the car part itself, Clairmont said. 
Laber liked the rounded fenders of older cars, and he could see how one might become an animal head or leg or torso, so he didn't hammer or alter them beyond recognition. Green was the color of the part, and part of the reason he chose it, so he left it undisturbed. The horse's nose is streaked with yellow in a "just so" fashion. He enjoyed finding pieces of chrome to create accents. He would cut ripples like the edges of flames into a sheet of metal to represent a bison's cape.
In 1999, he sculpted a massive, 11-foot-long bison that won him awards after they hauled it on its trailer base to Billings for the American Indian Higher Education Consortium Conference. A museum in Münster, Germany, purchased it, and he was featured in a cover article of the Tribal College Journal of American Indian Higher Education.
The materials themselves are a statement. "The tradition was to make things out of whatever was handy, and that was handy," he said in a 2002 interview with the Daily Inter Lake.
Keep reading for FREE!
Enjoy more articles by signing up or logging in. No credit card required.
The parts all have stories. "It's every aspect of reservation life," and that it reflects contemporary reality and not romantic ideas, he told the Billings Gazette in 1999.
Clairmont said Laber liked the history behind them — that they dated to a particular time and place where they'd been useful. The metal also alludes to the arrival of white people and everything they brought with them. 
He bent barbed wire into hair seemingly flying in the wind, giving his figures a sense of movement. The wire, too, is a statement. The notion of aggressively separating land with something like that was a foreign concept. "It just wasn't part of our way of life," Clairmont said.
The Blackfeet tribe and the Montana Arts Council commissioned the sets of sentries on the reservation, which were installed around 1999. For material, he sought out rusted cars stranded around the area by the 1964 flood, in which 30 people were killed.
"It was a way of revitalizing in a sense the community, or assisting in that way, as well as a remembering the tragic event that happened," Clairmont said.
Two large pieces of Laber's are home at SKC, where he taught students how to sandblast and etch designs in glass and stone, and reservation arts. He taught them how to make flutes out of wood, until he switched to PVC pipe because some kids couldn't afford cedar. 
"He had quite a bit of traditional knowledge as well, working with hide and atlatl and other things like that," said Frank Finley, an art instructor at SKC.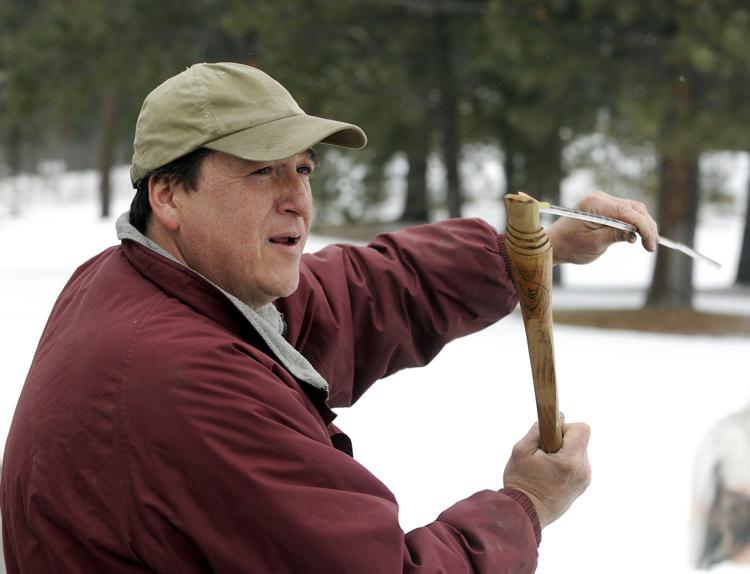 He also taught those kinds of skills at schools around the state. Clairmont said he collaborated with students on a sculpture for Flathead High School in Kalispell, and the kids who were interested could come down to his shop to work on it.
He loved animals and kept horses. Once, when he was sick, he chased a grizzly bear off his property to try to save a fawn. He was also an avid fisherman, Clairmont said, and would embarrass any fishing partners who came along.
The sculptures were "a natural expression of Jay," according to Stephen Glueckert, the former curator of the Missoula Art Museum, where Laber has exhibited work. "Even though his sculptures were large, there was nothing pretentious nor arrogant about his work. He was always in good humor." 
He was a "kidder," according to Clairmont and Finley. "He always had a story or a joke that kept you on edge," Clairmont said. There's a joke hidden in his adult-sized bison sculpture at SKC. The work was scheduled to be installed outside the health and fitness center before a political event. The bison's rear faces the entryway, so if you, or a politician, happened to notice, Laber placed a car's rear-view mirror in the metal rectum.
The subtle joke aside, it's one of his most stylized works, Clairmont said. The torso feels geometric, since Laber found large, uninterrupted pieces of metal to fashion together. The forward section of the hump is part of an old dashboard. The horns are coils of wire that look like scribbled lines in an expressionist drawing.
Nearby is "Buffalo Hunter," which Clairmont said is one of his most dramatic. A rider, his horse veering at an angle, drives a spear into a bison. They're all caught in mid-motion with their legs, capped by old headlights, raised and running.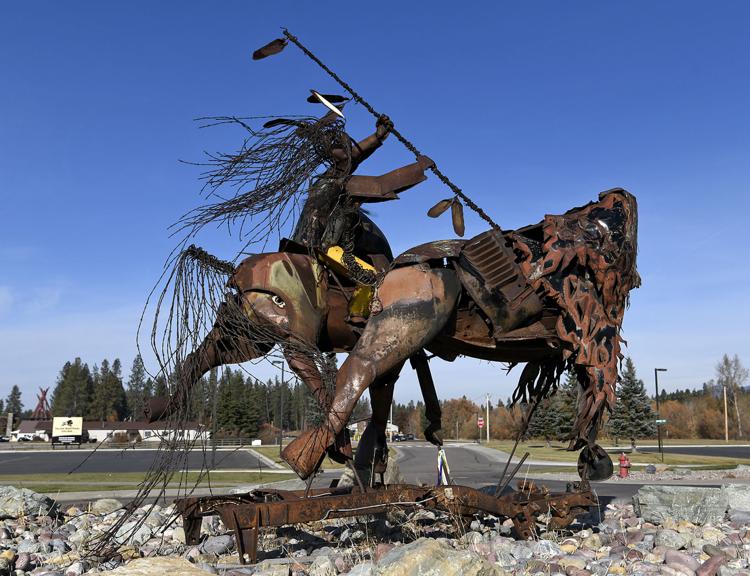 There's no bad angles on it, he said, and it appears active no matter which side you stand on.
It looks kinetic and alive because he'd learned to sift through hundreds of parts and see what they wanted to be instead of overworking them, Clairmont thinks.
"You have to maintain that spontaneity or it's dead," Clairmont said, adding "that's the hardest thing to do, I think, is to maintain that spontaneity and energy that's involved in the creation."
It was a commissioned piece, and Clairmont said he doesn't know of a specific message that Laber wanted to convey, beyond the one embedded in the patina of all his sculptures.
"A lot of our communities have been through a lot of hardship, and I think that determination and beauty of our people comes out in his work," he said.