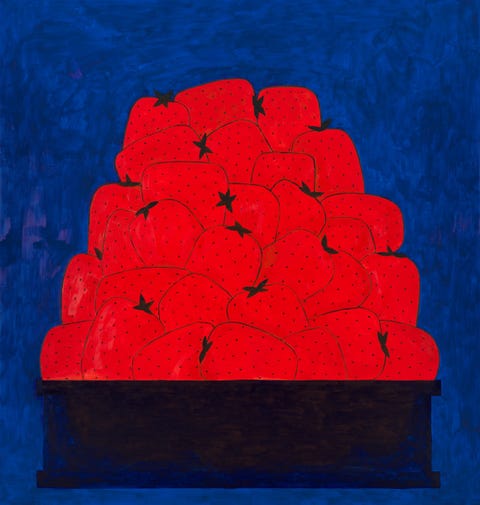 Courtesy of Michael Werner Gallery, New York and London
The simple forms and eye-catching colours of the German artist Raphaela Simon are celebrated in an exhibition at the Michael Werner Gallery in Mayfair this month.
Titled 'Erdbeeren' (or 'Strawberries'), the solo show sees Simon transform the gallery space into an immersive picture-book, as nostalgic as it is unsettling. The Berlin-based painter and sculptor transfigures everyday items such as suits, watches and the titular strawberries into deceptively simple images evoking distant memories. Her large-scale canvases feature highly saturated colours set against stark monochrome backdrops, highlighting the contrast between the representational simplicity of Simon's designs and her conceptual maturity.
Alongside the paintings, Simon will populate the space with a uncanny cast of sculptural mannequins fashioned from fabric, wool and wire. Created using soft textiles, these diverse characters – from dogwalkers to policemen – conjure up the atmosphere of an imaginary village.
Through her consciously simple compositions and recurrent use of symbolically charged motifs, Simon offers a delicate yet disarming depiction of the imperfect narratives we create around our own lives.
Erdbeeren will run from 21 November until January 2020 at the Michael Werner Gallery.