As Poydras Street commuters have surely noticed, five eye-catching new sculptures have appeared recently along the street's neutral ground. One was created by an internationally renowned Louisiana artist, who also happens to be a 1970s feminist firebrand. Another was designed by one of the country's best-known self-taught artists.
The artworks are the latest additions to "The Poydras Corridor Sculpture Exhibition Presented by the Helis Foundation." The ongoing exhibit of modern art on Poydras Street was begun by Michael Manjarris, co-founder of the Sculpture for New Orleans project that helped beautify the cityscape during the post-Katrina recovery period.
The rotating selection of 20 sculptures that stretches along Poydras from the Interstate 10 overpass to Fulton Street is the Crescent City's greatest drive-by art exhibit.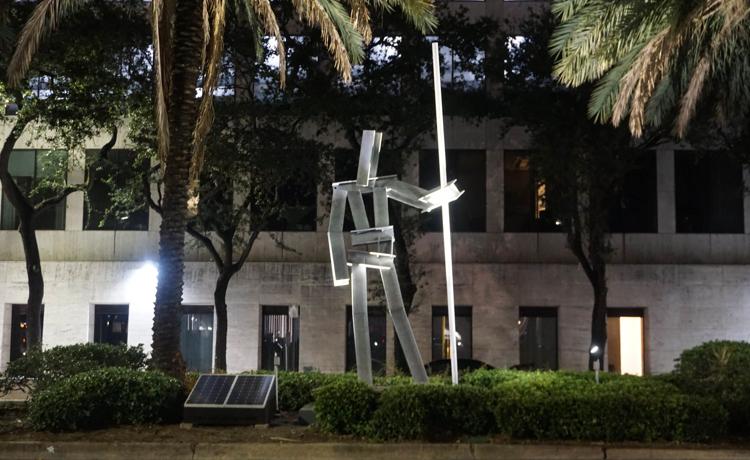 The sculptures, which were selected by a committee including Manjarris and representatives of the Ogden Museum of Southern Art, are on loan from the artists.
The city allows the sculptures to be installed on the neutral ground, which it maintains. But the installation and other costs are paid for by the Helis Foundation, an art philanthropy. 
"Headed to the Land We Were Promised (Glory)" by Lonnie Holley — At the corner of Camp Street.
Hailing from Birmingham, Alabama, Holley is a star among self-taught Southern artists. He is best known for his riotously unruly sculptures made from tangles of wire, cast-off furniture, bicycle parts, broken musical instruments and you name it. For his 17-foot Poydras Street sculpture, he produced a simple, streamlined design that features the silhouettes of faces cut into heavy steel sheet.
Holley said that in the silhouettes, onlookers may find "the elders of ancestry and all the little faces of babies, babies, babies, continuing into the future."
Though the artist didn't use his typical array of found objects to create "Glory," the surrounding Poydras Street architecture and signs, such as a Zatarain's billboard, a mural of the riverboat Natchez and the ads on passing buses can be seen through the gaps in the sculpture, producing the effect of a collage.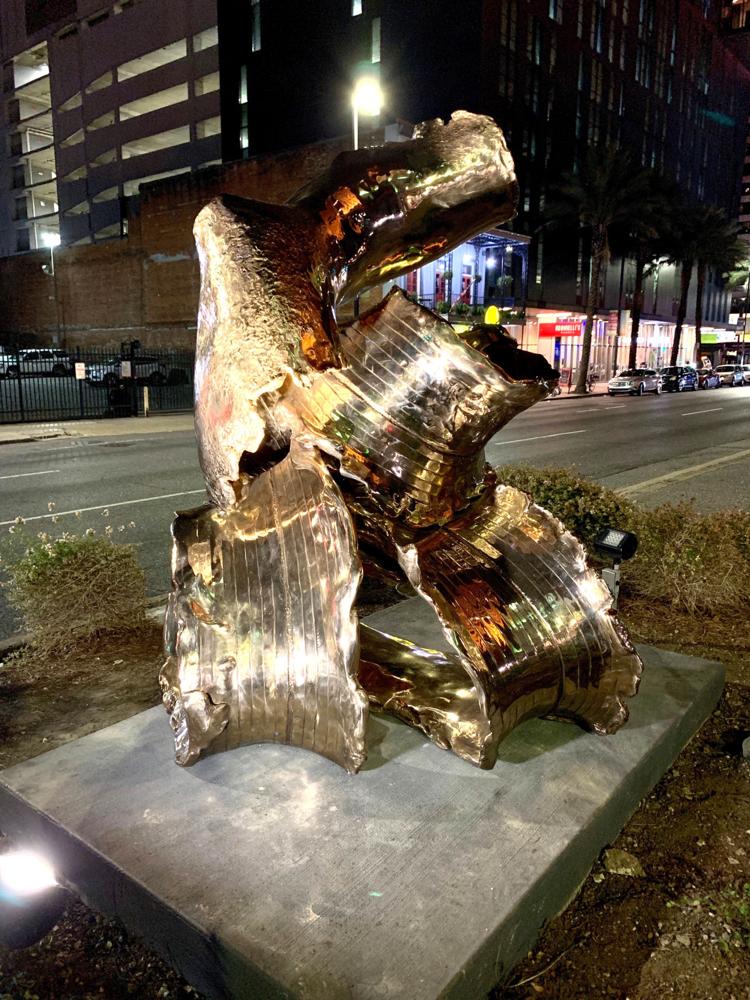 "Power Tower" by Lynda Benglis — In the 900 block of Poydras, near Baronne Street.
Born in Lake Charles, Benglis became a star of the Andy Warhol-era New York art scene. Her artworks were outrageously avant-garde even for the 1960s. Instead of painting on canvas, she poured gallons and gallons of paint directly on the gallery floor. Instead of chiseling statues out of marble, she made amoeba-like shapes by allowing foaming plastic insulation to flow like lava.
That's her weirdly beautiful "Wave" fountain at the edge of Big Lake near the Esplanade Avenue entrance to City Park. 
In 1974, Benglis posed for a deliberately shocking nude photograph that she used as an advertisement in an art magazine. It was meant as a satire of the male domination of the art world and made the Newcomb College graduate a symbol of feminist rebellion.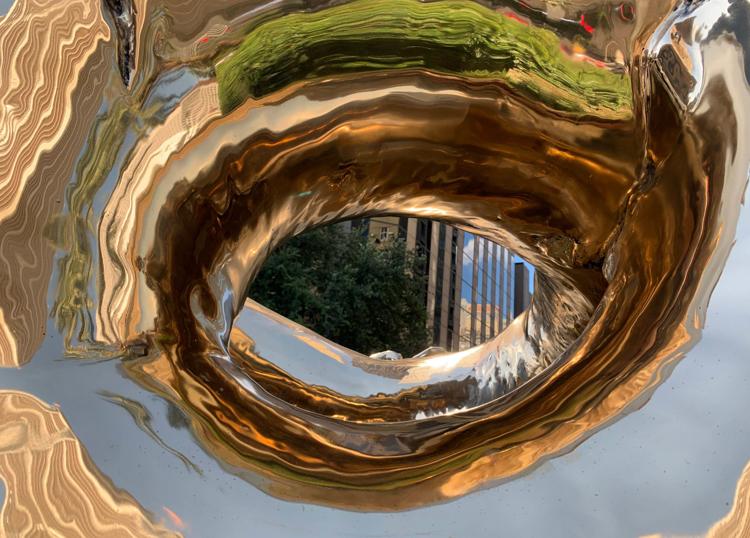 Benglis likes to let materials be themselves. Her 8-foot-tall glinting golden sculpture on Poydras began as a piece of curled and cracked clay, and that's what it's supposed to look like, though in a press release she says the shape might remind viewers of anything from ruined tires to parts of mammoths' trunks to "strange umbilical cords cut after the expulsion from the Garden of Eden."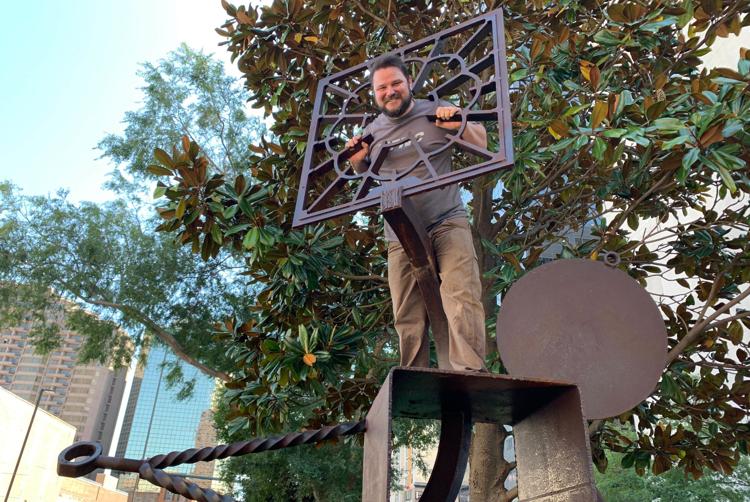 "Dingbat" by Earl Dismuke — At the corner of Camp Street.
Oxford, Mississippi, artist Earl Dismuke said his sculpture is "about being born in rural Mississippi and growing up there." Storytelling is a big part of the culture there, he said, and he hopes his sculpture has the same sense of yarn weaving.
The 11-foot steel sculpture looks a little like a backwoods robot with a cast iron oven grate for a face and an outstretched right arm. "My mom used to call us dingbats growing up," he said, explaining the title.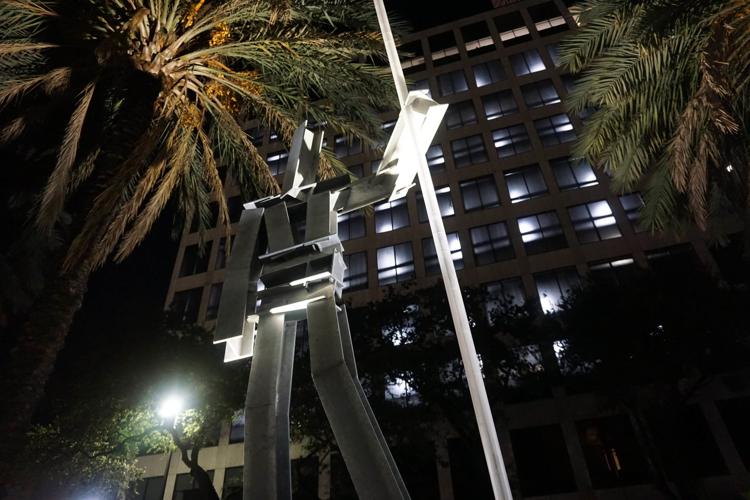 "The Guide" by Phil Proctor — In the 700 block of Poydras near Carondelet Street.
Proctor originally built "The Guide" to stand near Atlanta's Beltline area, a railway corridor revitalization project. But the 13-foot-tall steel figure perfectly fits in with its new home in New Orleans. Proctor said he designed the heroic figure during a period of self-doubt, when he felt he could use some strength and, well, guidance. The Herculean figure with a lighted staff was meant to lead him out of the darkness.
"The Guide" can also serve as a symbol of New Orleans' comeback after Katrina and the 2005 flood. The giant stands on an iron base that's patterned to look as though he is striding through shallow water.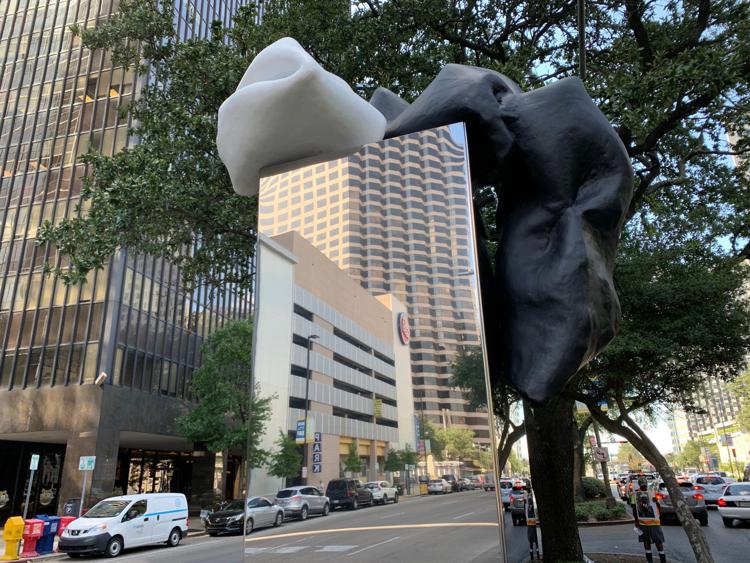 "Three Ways" by Kennedy Yanko — In the 1200 block of Poydras, near Loyola Avenue.
Yanko, who was born in St. Louis, is a rising star on the New York art scene. She's known for leathery sheets of pure dried paint that she calls "paint skins." Like Benglis, Yanko is willing to allow her supple pelts of paint to drape and fold naturally, like wet towels. In "Three Ways" she has piled three such amorphous shapes atop a highly polished silver rectangle that reflects the passing traffic.
Yanko said she was happily surprised to discover that despite the busy urban setting, her sculpture stands amid bushes and trees, which are reflected in its shiny sides. "The landscape of Poydras Street actually finishes the piece for me," she said.