Kehinde Wiley's eagerly anticipated "Rumors of War" will be permanently installed at the Virginia Museum of Fine Arts on Dec. 10.
The sculpture will be placed at the museum's entrance at 200 N. Arthur Ashe Boulevard. The unveiling will begin at 3:30 p.m. and is open to the public.
Wiley will speak at the unveiling, as well as Gov. Ralph Northam, Mayor Levar Stoney, the museum's director Alex Nyerges and others.
Richmond's All City High School Marching Band will perform at the event, followed by a reception for the public in the museum's Cochrane Atrium with live music and refreshments.
"Rumors of War" depicts a young African American figure with a crown of dreadlocks in urban streetwear, sitting astride a horse in a striking pose.
It was created in response to Richmond's monument of Confederate Gen. J.E.B. Stuart on Monument Avenue.
"Rumors of War" had a splashy unveiling in New York's Time Square in late September and made national news. At the Times Square unveiling, Wiley talked about how the inspiration for "Rumors of War" came from his visit to Richmond and encountering the monuments on Monument Avenue.
"I'm a black man looking up at those things that give me a sense of dread and fear," Wiley said at the unveiling. "What does that feel like physically to walk a public space, and to have your state, your country, your nation, say, 'This is what we stand by?' No. We want more. We demand more. We creative people create more. … And today we say yes to something that looks like us. We say yes to inclusivity. We say yes to broader notions of what it means to be an American."
Best known for his official presidential portrait of Barack Obama, the 42-year-old artist has built his career on creating larger-than-life, regal portraits of minorities in classical poses, positioning his subjects in ways typically associated with wealthy and powerful white men.
Wiley said the title of the monument, "Rumors of War," refers to the New Testament and a "changing of times."
"The idea is that in the 'change times,' there will be wars and rumors of war. … And there are moments where art has to step in," Wiley said.
The sculpture is Wiley's first piece of public art and was created to be on scale with the J.E.B. Stuart monument at 27 feet tall.
"Rumors of War" is the most expensive acquisition of a sculpture the VMFA has ever made. The acquisition was funded by an endowment of private donations, not state money.
Nyerges, the museum's director, said the installation of "Rumors of War" is a "pivotal and historic moment" for the museum, the state and the city of Richmond.
"We hope that the sculpture will encourage public engagement and civic discussion about who is memorialized in our nation and the significance of monuments in the context of American history," Nyerges said. "We are especially pleased that through the acquisition of this work, the monuments in Richmond will further reflect the incredible diversity of its population."
'Rumors of War'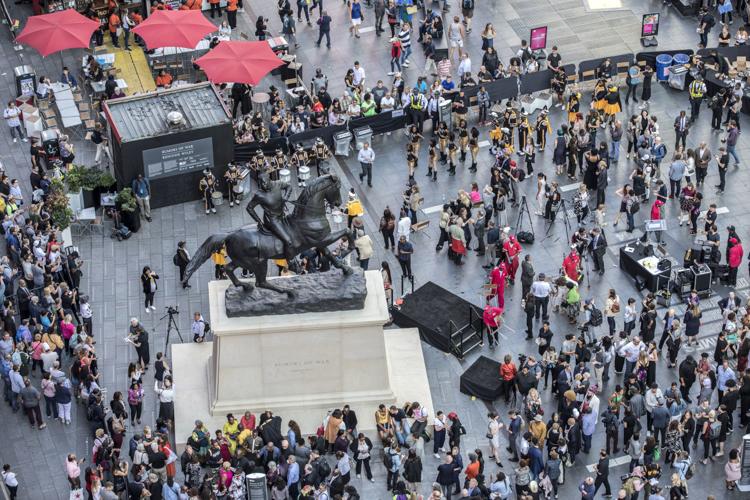 — HIDE VERTICAL GALLERY ASSET TITLES —
Kehinde Wiley-Sculpture
Kehinde Wiley-Sculpture
Kehinde Wiley-Sculpture
Kehinde Wiley-Sculpture
Kehinde Wiley-Sculpture
Kehinde Wiley-Sculpture
Kehinde Wiley-Sculpture
Kehinde Wiley-Sculpture