RANDOLPH — When seven members and supporters of the Jarheads Motorcycle Club were struck and killed June 21 by a driver who swerved into their eastbound lane on Route 2, they were riding horses of iron.
On Saturday, on the spot where  their fateful trip began, the "Fallen Seven" got wings of steel.
During an emotional midday ceremony, a metal sculpture depicting the five Harley-Davidson motorcycles — ridden by Desma Oakes of Concord, Aaron Perry of Farmington, Michael Ferazzi of Contoocook, Albert Mazza of Lee, Joanne and Edward Corr of Lakeville, Mass., and Daniel Pereira of Riverside R.I. — was unveiled in front of the Mount Jefferson View Motel & Cabins.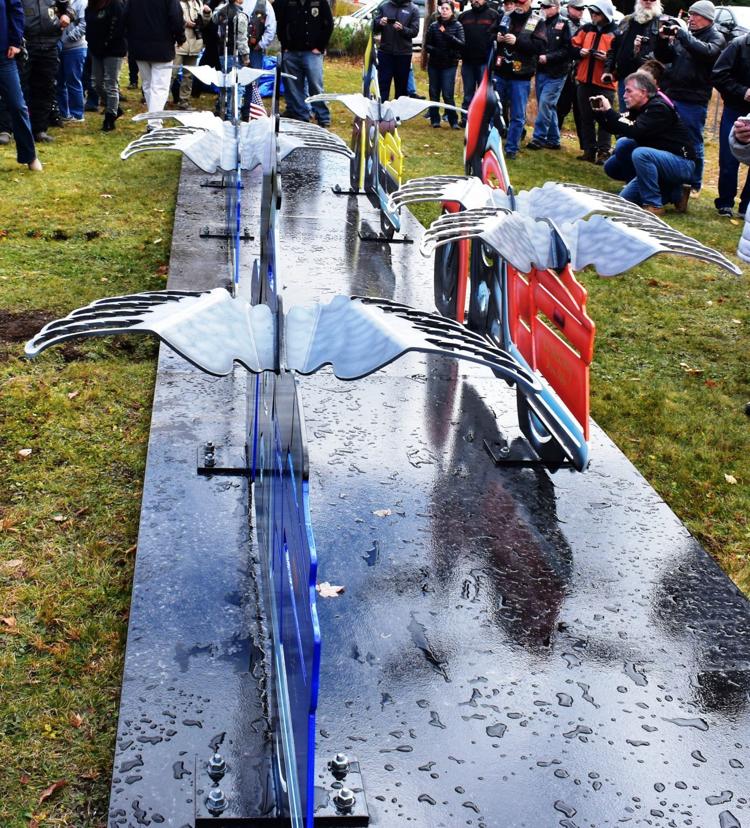 The seven were among a larger group of Jarheads who were headed to the Dupont-Holmes American Legion Post No. 82 in Gorham to set up for the club's annual meeting the following day.
The group traveled less than one third of a mile up Route 2 before Volodymyr Zhukovskyy, 23, of West Springfield, Mass., operating a westbound pickup truck that was towing a trailer, crossed the double yellow line and struck the motorcycles.
In addition to those who were killed, three other Jarheads were injured.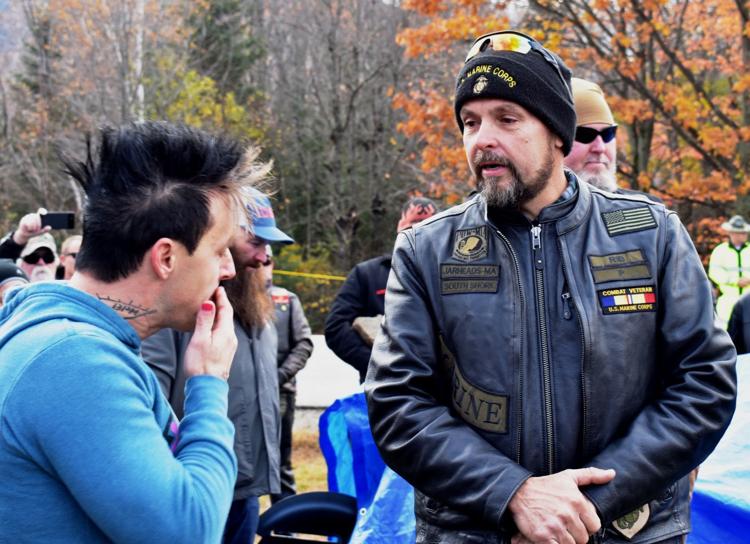 Zhukovskyy has been charged with seven counts of negligent homicide and is being held without bail. He has pleaded not guilty and, according to court documents, said he was distracted and looking down when the collision occurred.
Almost immediately after the crash, a memorial sprang up at the accident scene, which is on the south side of Route 2 in the Randolph Community Forest. Members of Post 82 are raising funds to erect a granite memorial in the forest by Memorial Day 2020.
According to its Facebook page, Manchester-based band Recycled Percussion reached out to the Jarheads and initiated discussions on a metal statue-style tribute or a custom trailer the Jarheads could use to "tell the stories of those who lost their lives."
Ultimately, a sculpture was settled upon and Summit Metal Fabricators of Plaistow brought it to life. The piece depicts the five bikes of the Fallen Seven, with Mazza, the Jarheads' president, leading the group of Harley-Davidsons. The motorcycles are rider-less, their riders and passengers replaced with a single or double pair of wings.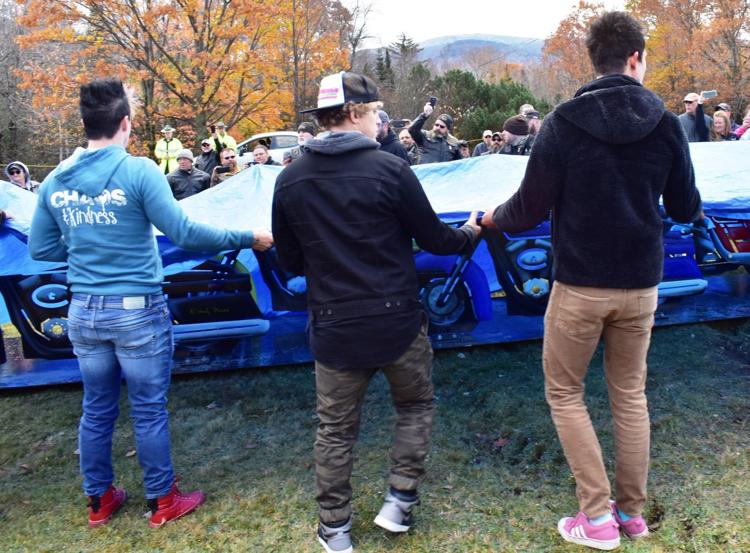 Facing eastward, the brightly-colored sculpture is secured to a steel plate on the Mount Jefferson View Motel & Cabins property, a short distance from Route 2.
Justin Spencer, who founded Recycled Percussion, downplayed his band's contributions, which included a $21,000 donation to the Jarheads.
"We are from New Hampshire and incredibly proud to be from New Hampshire," he told about 300 people who came out for Saturday's unveiling.
Spencer said the idea of creating a memorial to the Jarheads was "instinctual" and that Saturday was "about remembering the Jarheads, their families and their loves ones."
Manny "Rib" Ribeiro, who was riding with the Fallen Seven and is now the president of the Jarheads, said Recycled Percussion, Summit Metal Fabricators and others who helped them "have gone above and beyond whatever I thought could come out of this."
Ribeiro, a Pembroke, Mass., resident, said Saturday was his first time back to Randolph since the crash.
"This is a very emotional day for us, for me," Ribeiro said. "You guys make it a little easier to be here."
Spencer hopes that the sculpture of the Fallen Seven will help their comrades heal.
For Ribeiro, who said the sculpture is amazing and "definitely not your average memorial," the healing comes with the pain of remembrance but also the comfort that the Fallen Seven "will never be forgotten."