international architecture firm MMA projects has built the headquarters of telecommunication company axiom telecom in dubai's silicon oasis using cement, black glass, and cor-ten as the three main construction materials. the massive, yet at the same time, suspended and balanced building has been developed to form a visual and iconic landmark in an area of high technological density.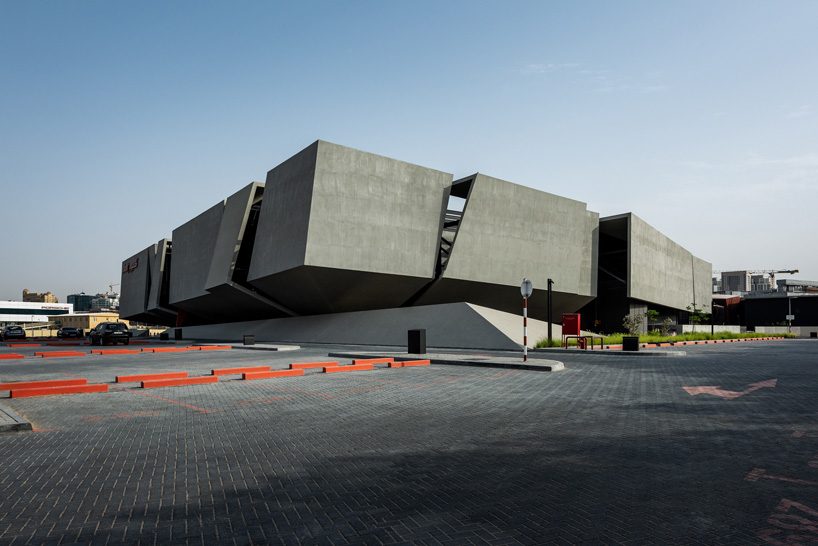 all images by tushar naik
'axiom telecom headquarter is the result of the work carried out on four fundamental assumptions and their relationships: icon and green building, city, garden and technology,' notes MMA projects. 'furthermore, besides the guidelines recommended by the client, were added: impact, presence, recognisability and synesthesia.' based entirely on these concepts, the architects have developed an architectural complex that follows the land topography, giving life to a building which has been raised to preserve the main garden. contributing to an equal measure of both indoor and outdoor spaces, this 'green heart' gives life to multi-functional areas, where public and private intertwine harmoniously.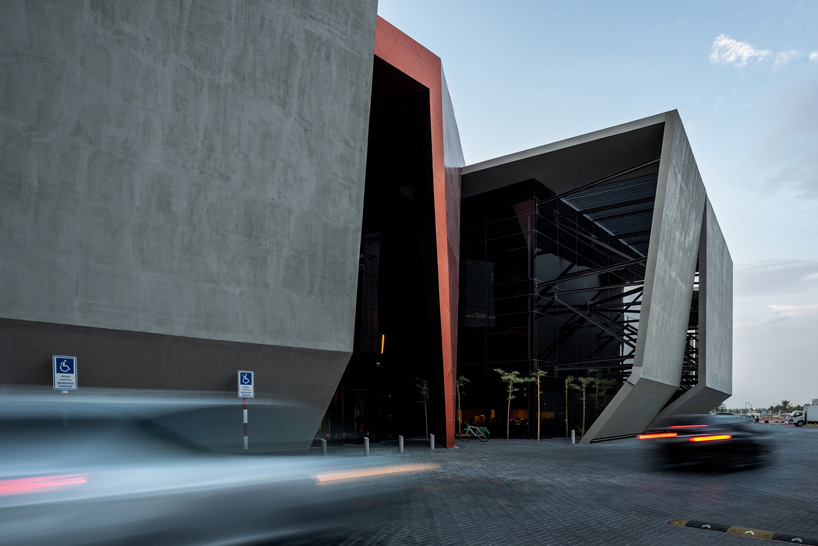 the building combines cement and black glass in its exterior sculptural volume, while a cor-ten steel roof – the sum of many-faceted elements – wraps and connects the 'stone' fragments. at the same time, large black windows that merge with the different fragments and appear as dark markings between the 'shield splits' further connect everything together. internally, there is a continuous balance between operational functions and relational spaces, exploring a new way of living within the office environment, where collaboration between people is one of the main focal points in the project. internal walkways are imagined as lanes that intersect the different building fragments, which represent 'clusters' designed to accommodate the various functions.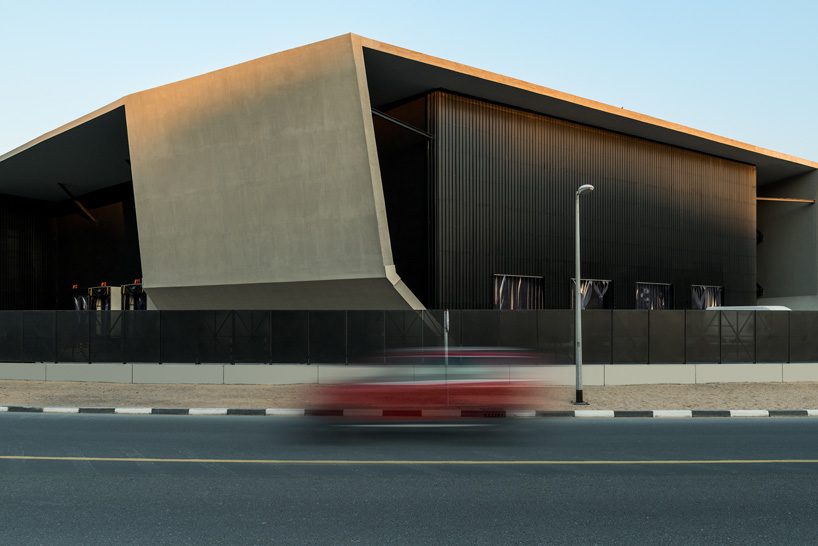 MMA projects has divided the general plan of the axiom telecom headquarters into three main blocks with different functions: a main area with a restaurant, lounge bar, gym, spa, and conference room; a central area dedicated to operational and managerial activity; and the production and logistics operations area, which is perfectly integrated with the rest of the building. the main garden, as well as the interior, is made up of a mix of low and tall trees, stone and wood surfaces, water mirrors and lights that create continuity between outside and inside.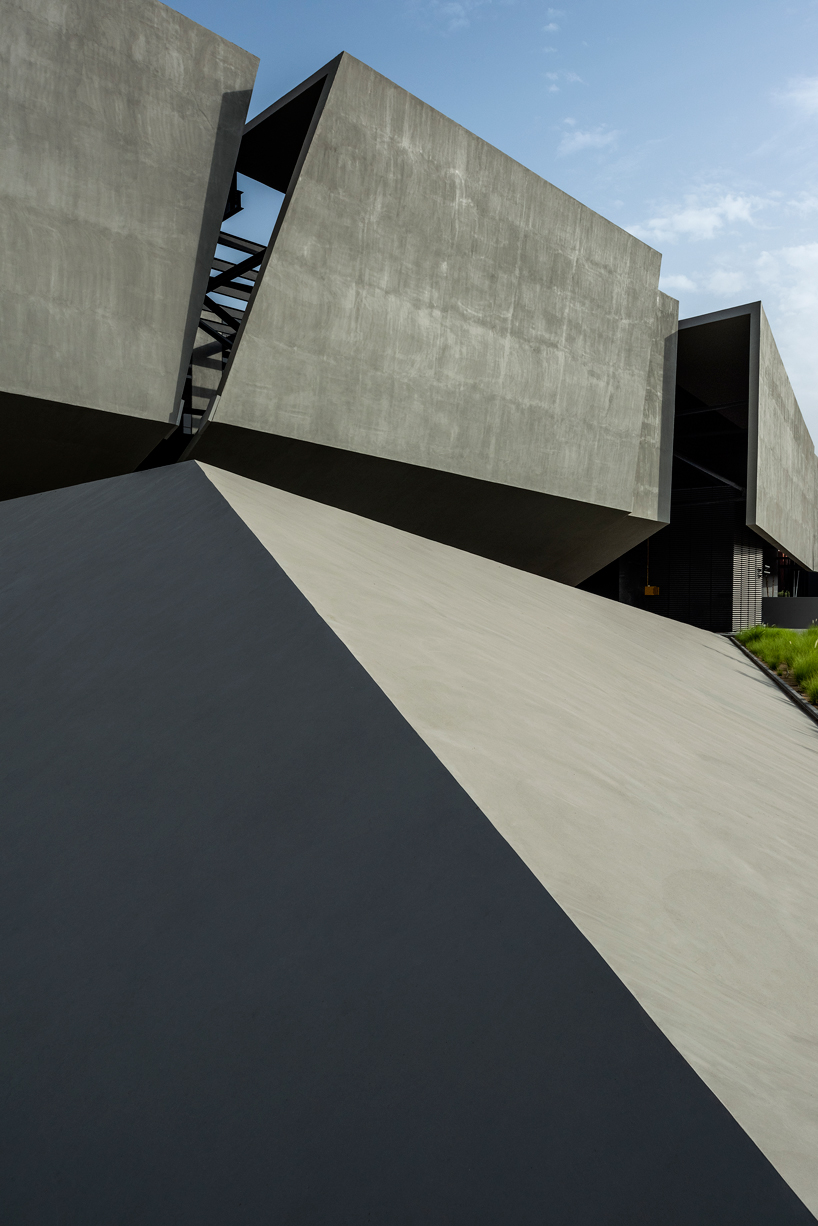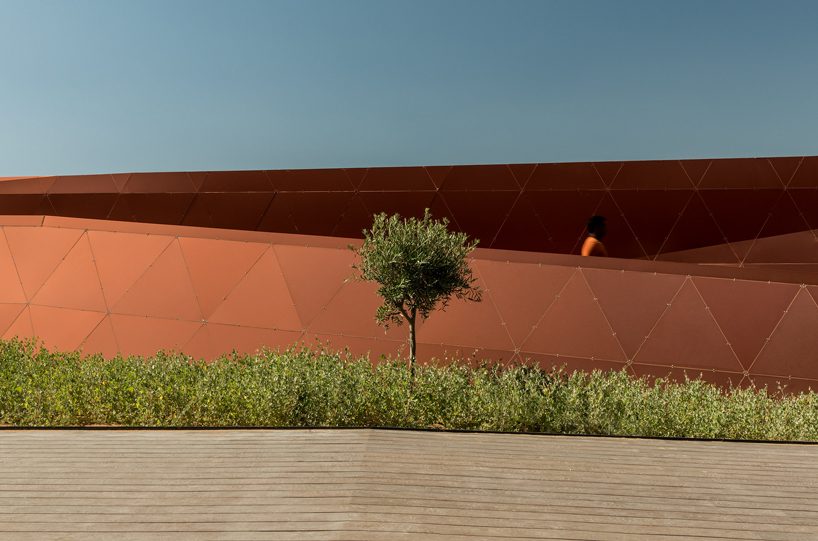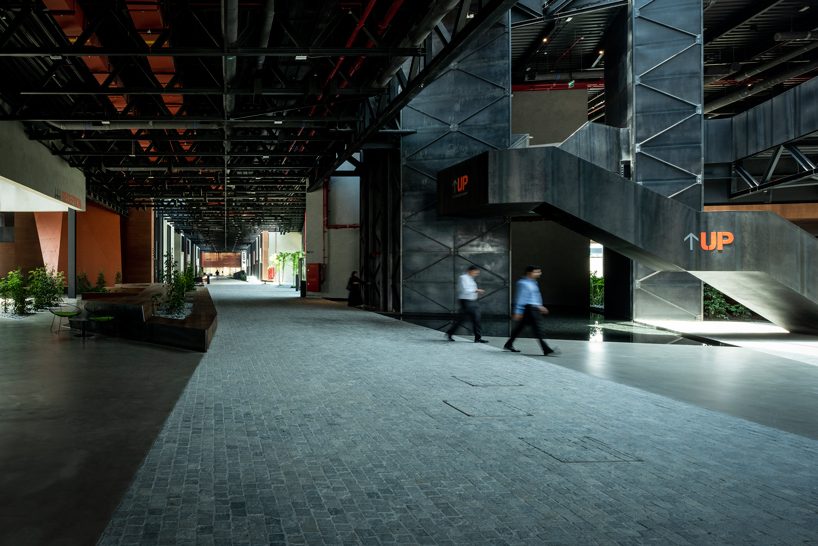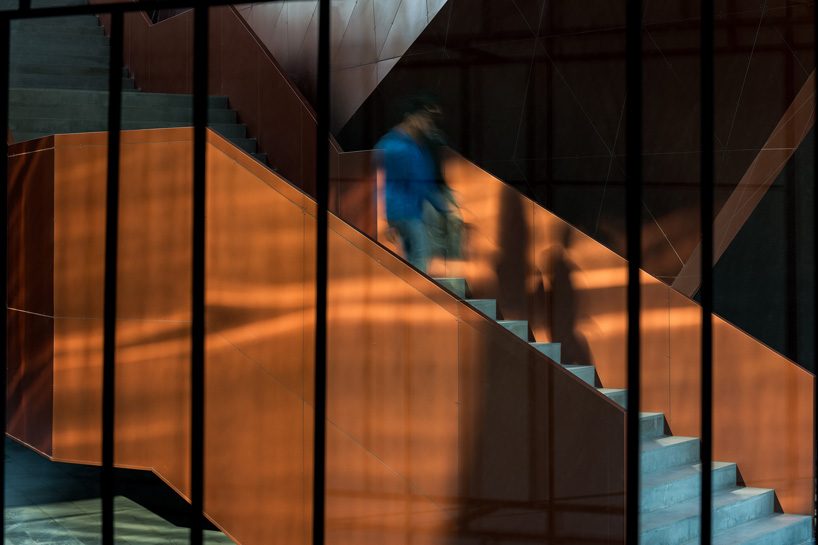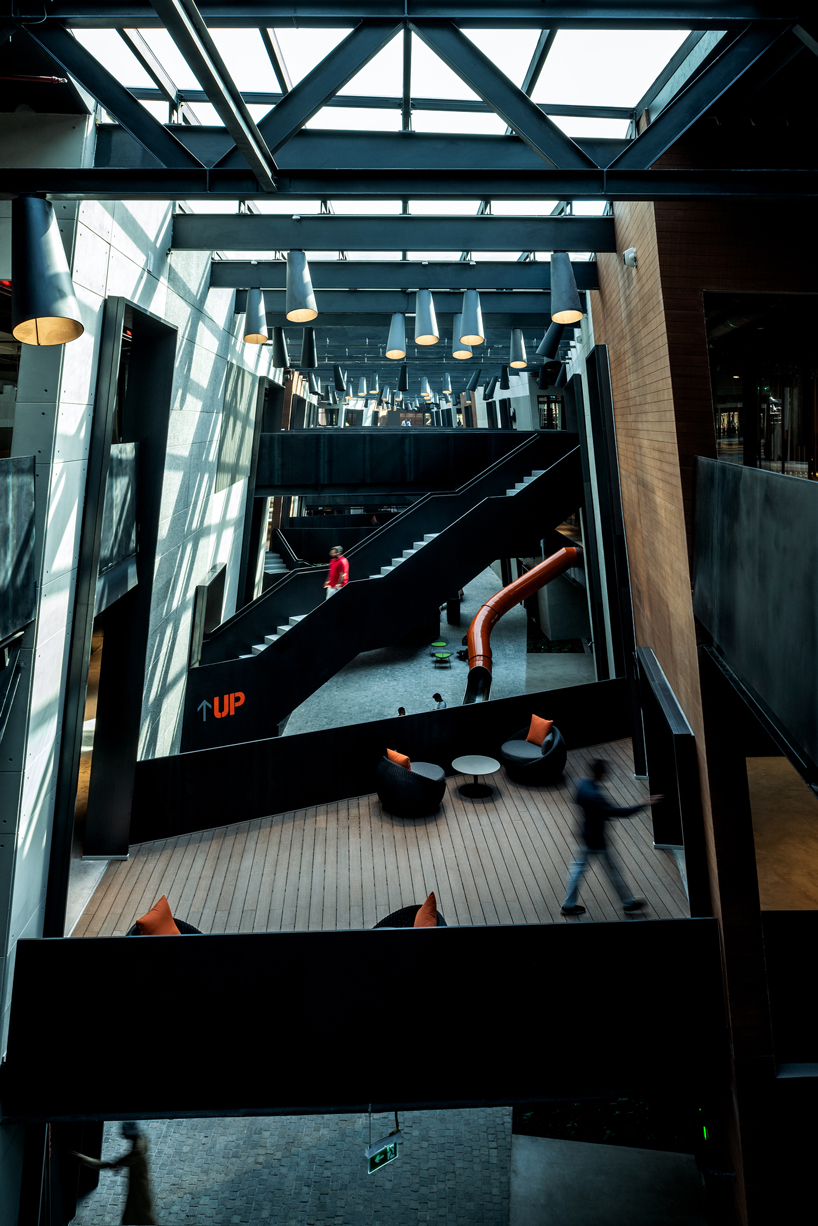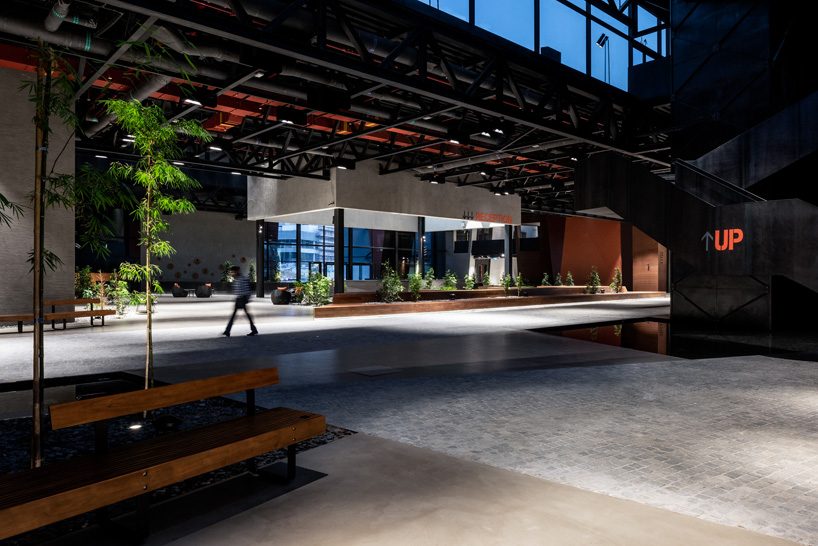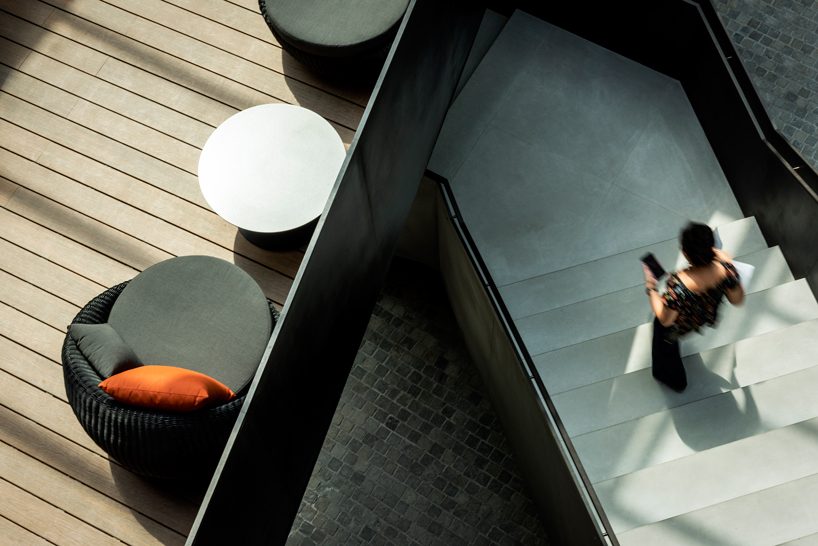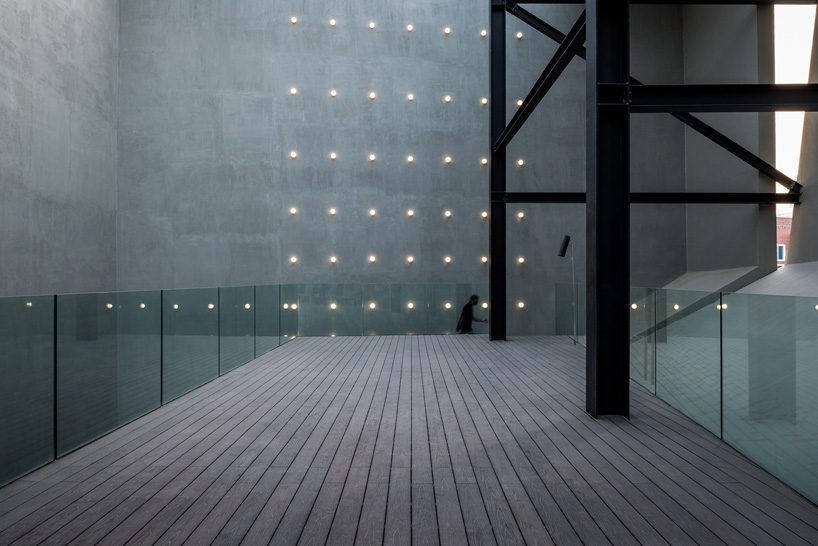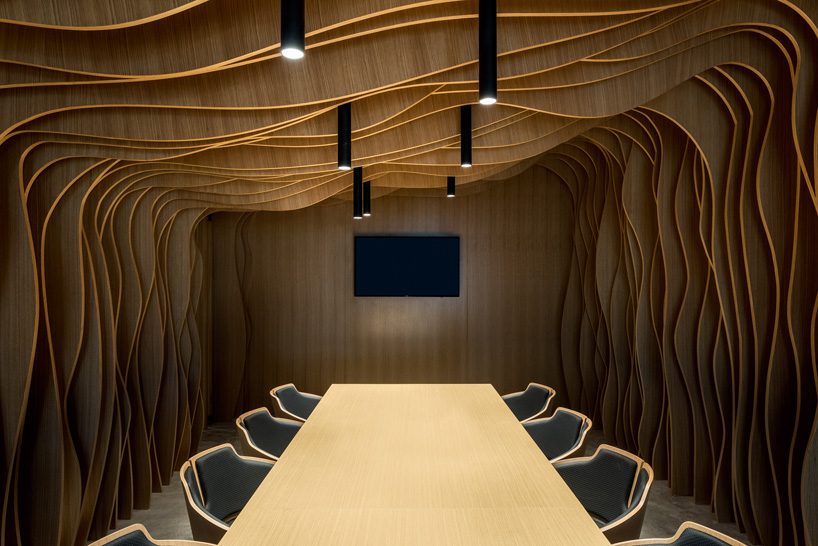 project info:
architect: MMA projects
client: axiom telecom l.l.c.
contractor: china railway 18th bureau group
project manager: marco mangili
team: andrea ronzoni (project coordinator and project advisor) – pasquale aversario, barbara michielutti (interior design) – josef kamelger, giorgio visentin, adele trimigno (team) – consultants: pslab and telmotor spa (lighting consultant) – NEB (AOR, structural and mechanical) – dynamic design dmcc (PMO)
location: dubai, UAE
square foot covered: 34.000 sqm
sofia lekka angelopoulou I designboom
nov 05, 2019