Just east of Potawatomi lies a quirky sculpture garden next to a single-story building that was the Cargill Research and Development Building at 1513 W. Canal St. in the Menomonee Valley.
The garden has five sculptures that The Forest County Potawatomi Community – which now owns the site – is looking to give away to a good home.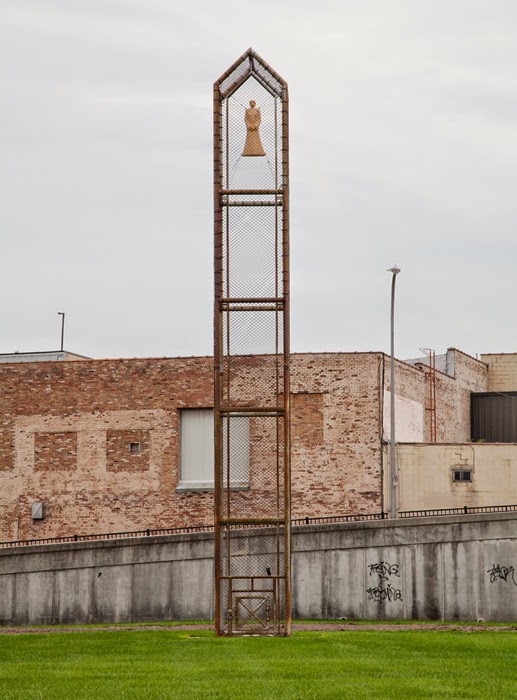 The building will be razed and the sculptures need to be moved elsewhere.
"There are no immediate plans for that site, or the old Cargill slaughterhouse that is to the west of the hotel and our offices," said spokesman Jay Saunders.
The sculpture garden was by meatpacking mogul Bernard Peck, who bought a piece of land next to his packing plant in 1980. There, with sculptors Joseph Mendla and Hilary Goldblatt, he added the five sculptures, which includes works by the two sculptors, as well as by Richard Pflieger, Clair Liberman and one by Peck himself, in 1983.
The sculptures are "Menomonee" by Hilary Goldblatt (pictured above), "Space Game" by Joseph Mendla, "Oops, Missed" by Bernard Peck (pictured at right), "Angel in a Cage" by Richard Pflieger and an untitled stone sculpture by Clair Liberman (pictured at bottom).
How much is the Potawatomi asking for the artwork?
"New owners won't have to pay a penny for the sculptures, but will have to arrange for transportation to a new location," according to a press release. "This is a unique chance to obtain some unique pieces of art in the Menomonee Valley that just need a new home."
Interested? Serious inquiries to Charles Opferman, (414) 837-3386 or
Charles.opferman@fcpotawatomi-nsn.gov.