Artistically painted javelina figures have popped up next to businesses or community nonprofits in and around the village of Tubac.
They're part of a squadron (that's what a group of these collared peccaries are called) that will remain on display through mid-March 2020 to help promote Tubac to visitors. Six have been placed at Tucson International Airport, encouraging arriving travelers to head for Tubac, and one will be at the Arizona-Sonora Desert Museum.
The creative idea by Nicholas Wilson and Virginia Hall surfaced in 2017 and the project officially started in 2018.
Wilson sculpted the original, and it was recreated more than 50 times by a Nebraska company into a sturdy model for each artist to paint and make unique. A trailer, with the javelinas secured on two levels, delivered the cargo to Tubac on March 30.
Galleries in Tubac and artists who are members of the Tubac Center of the Arts were made aware of the project. Artists eagerly signed on, with the freedom to design and paint their javelina with two caveats: no political themes, and javelinas going to the Tucson airport had to have "Tubac" painted on them.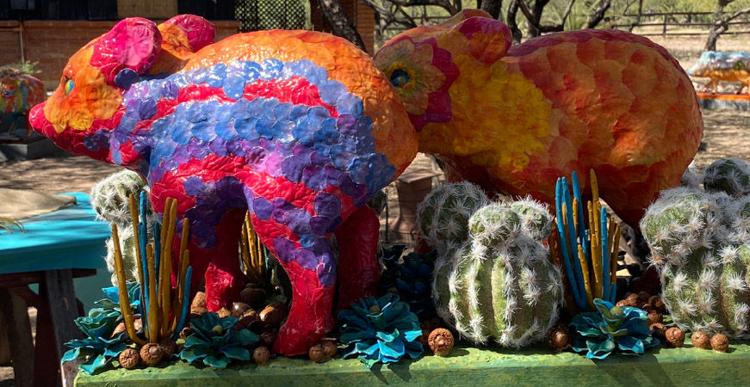 Artist-focused maps show visitors where each of more than 44 life-size javelinas – plus six pairs of baby javelinas – are displayed. Each one includes the artist's name on a signed plaque.
Artist Michaelin Otis, whose work is represented at Rogoway Turquoise Tortoise Galley in Tubac, was asked by owners Debbie Barrios and Jackie Zeitler if she wanted to paint a javelina.
"I jumped at the chance. I love Tubac and have painted sculptures of carousel horses in the past, so it was right up my alley," Otis said.
Using the style of Van Gogh's "Starry Night," she used Tubac in place of Saint-Rémy-de-Provence.
"I photographed buildings including the golf resort, the Tubac sign, Tumacácori Mission and Wisdom's chicken. Look closely and you will even see the Tubac Center of the Arts. And that is how 'Starry Night in Tubac' was born. I had a fabulous time," Otis said.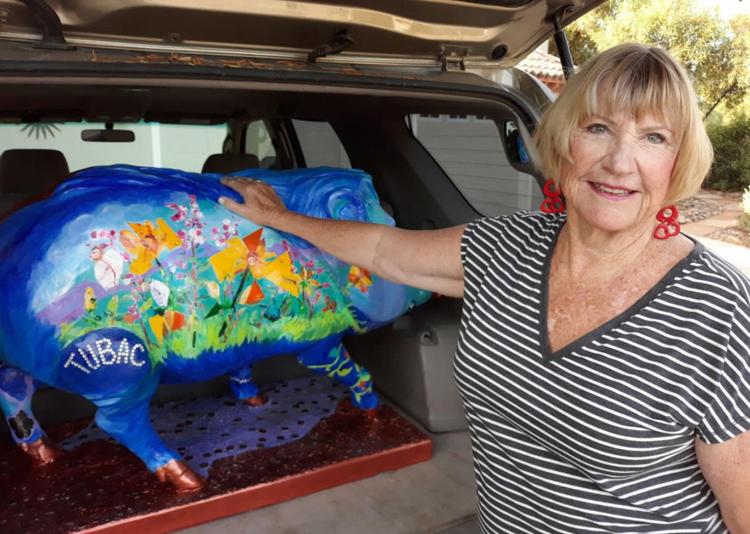 For landscape and architectural artist Linda Star Landon, her bold and brightly painted javelina was an entirely new challenge.
"I had never painted with acrylic paint before and I had never painted a sculpture before, so I had a few things to learn. My painting style features bright colors and bold textures so I knew (her javelina) had to be all that … I wanted to be free to swirl luscious colorful paint around."
When the javelinas are removed in mid-March 2020, they'll be auctioned off.
"Tubac Center of the Arts has been involved in several ways and proceeds from the auction will be used to pay TCA back for their expenses," said Bob Ochoa, volunteer project manager. "Other Tubac nonprofits will also be reimbursed. It's a community project on so many levels and there has been so much good will."